Way to Rome
I disembarked in Ancona from Croatia. The trip lasted one night and as my ticket was the cheapest I slept in the floor of one of the so many living rooms of the ship; but this was carpeted and for this reason with my sleeping bag I felt like if I had slept in a hotel. Warm and calm, something that I don't always get in my tent.
At 07.00 o'clock a.m. I began the cycled to Rome and I crossed another time the Apennines among small towns, but this time was going up and down all the time. And there among the mountains with my bicycle I felt insignificant, another time was the nature that was imposed in all its splendour, and how difficult was to face up it.
In the end of the afternoon, after 142 km and 8.15 hs of cycling, I arrived to Folingo and during two hours I stopped in the main walking street to carry out my sales, and after getting something of money I celebrated it with a 4 cheeses pizza and with a bed in the youth's hostel, It was past 10 p.m. and I was very tired.
On the following day I took the route like a new man and I had more mountains to cycle up, but the climate was perfect and the landscapes with their slopes down made me forget everything. I cycled by this way other 129 kms in almost 8 hours and after a purchase in a market I went to the outskirts to camp. And it was difficult to find where to make it because it was already at night. At the end I camped on a sunflower field that it had already harvested but in fact it was not very comfortable, there were remains of stems in all sides and it was cold.
But in the morning of Saturday, I woke up to 30 km of Rome; and finally when I entered to the city I was moved; I had already spent more than 4 years from my departure in South Africa and this time was the cradle of one of the biggest empires that received me.
Rome – Km 47,800
To the entrance of the city I met Paolo and what I imagined that it would be complicated it was easy. After a brief tourist ride we arrive at the information tourism office, where I got a list of bed and breakfast. And after some calls I stayed in one of them, but the difficult thing was to load my bike with its 70 kg up to the 4 floor and it was by the stairs. And I never saw the breakfast, but it didn't matter, it was the cheapest place.
Two days later I met Alfredo, a countryman who introduced me to a kind of an Argentinean community. And it was very nice, I felt myself like at home. Alfredo is a musician for more than 20 years and he plays Latin rock with his band: "Yahmila". Leandro the neighbour's Alfredo, has just opened his own veterinary and he was who received me in his house the most of the days. I still remember those good foods that we used to cook and his stories about Syria, India or Honduras, where he worked as veterinarian for different international organizations. And I also met Beto, the most soccer guy and perhaps now the calmest, two children's father and merchant, he has a shop of all the kind things that are in fashion, only to some meters of the Vault.
The three guys manage an organization without profit's purpose which is dedicated to cooperate with emergent communities in the Argentinean; one of their last donations was a van to a community Mapuche in Neuquen.
But I was surprised when I listened the Alfredo's stories about the first donation: "In the 2002 we send a container of clothes to different Argentinean communities and we had to pay almost 500 euros to enter it to the country; if we didn't pay it, the government would have taken the container and I don't know how it has been distributed". "Surely to buy votes" Beto said. The stories of the boys, remember me how difficult are the things in Argentinean, inclusive when one tries to help. I would like that more people exist as them.
To get resources, the boys together to more than 10 Argentineans and some Italians organize monthly "Argentinean Parties" in a ship on the Tevere River.
And that nice attitude, in Alfredo's birthday they also organized a meal and then they give me their donation. Their behaviour was really a 10. And it never lacked a reason to toast. Rome treated me as my house.
I also got from another Argentinean the support to continue ahead; this time my new sponsor was "Baires", an Argentinean Restaurant. José at once interpreted the trip that I come carrying out and without doubting it he gave me the OK to rely on his help.
During my days in Rome I also carried out my sales in Trastevere and a couple of projections about my African trip, one was in a circle cyclist and the other one in the Argentina House, located in the consulate. It was the ambassador who authorized the projection. But I still remember the greeting of who received me the first day in the Argentina House: "We don't have money!" was the first thing that she told me, but Dario arrived later and he was nice.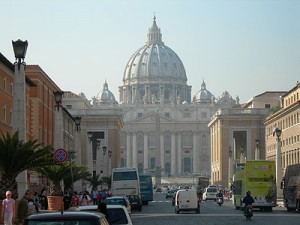 Finally my two weeks in Rome were enough to know a little about the capital of the old empire that expanded beyond Western Europe. Their legacy is still visible, sometimes in form of a whole building or in that of an only column of a temple. As the Roman Forum and the Trajano Market, which date of almost 2000 years behind, the same as the Vault, the Roman temple of all the gods or the Coliseum where it took place gladiators' mortal fights and fights of wild animals.
I also visited San Pedro's Basilica, in the Vatican, the Piazza of Spagna and the Trevi's Fountain, one of the so many majestic fountains that have Rome.
And travelling the city, between so many monuments and so much history, I asked myself: "where all that water that they overturn from the fountain goes?"[:]