Km 34,295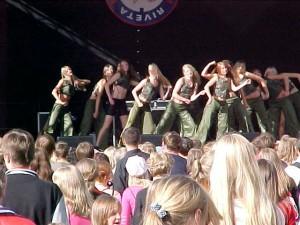 I arrived in Tallinn, the capital city, in my third day of cycle; there are a little more than 300 km from Riga, Latvia. The city is small and it has little more than 400.000 inhabitants, but almost 50 % are Russian. But the paradox, according to the statistics is that Tallinn receives 3 millions tourists per year.
By coincidence, on Sunday that I arrived, the city celebrated 600 years and it was a great party. In the central square there was a great orchestra playing, dozens of violinists, the director and a choir. A little far away there was another great scenario that presented to a group of girls, all blondes that danced to the style Michael Jackson.
In fact, the great majority of Estonians are high, blond and of blue eyes; it was funny when pedalling for the main avenue I saw a tram coming to me with a girl like its driver with a long and blond hair. Anything resemblance to the drivers that we have in the streets of Buenos Aires. For this reason if I have to choose some place of my trip to die hasty, it would be here, for one of these drivers so exotic.
In the afternoon I met Victoria, a Russian girl that worked in the street selling postcards and I surprised myself; because when I asked her about some place to stay she offered me, after calling to her mother, to stay in her house.
Events like this, surprised me every day, people are very kind, especially the Russian, I felt them the most open.
One day while I was selling my dolls, an older lady came to me, she only spoke Russian and without understanding each other she gave her cellular. Dima, a Russian guy who spoke Spanish was at the telephone. We had already known days before. The lady was his mother, and he explained to me that she wanted to help me, but she didn't have money so she presented me a knitted sweater by hand which she had just made. It was the end of the summer and the lady was worried by me. Once more I was surprised by the human warmth in the Baltic countries.
Russian steps
As I wanted to know St. Petersburg I had to request the visa to enter to Russia, and it was not easy. For moments they made me remember to the Sudan bureaucracy and also to the Argentinean idiosyncrasy. To process the visa personally cost 30 euros and a heap of obstacles, on the other way to request it through an agency of tourism cost 100 euros and everything was simpler, although I had to wait one week.
I stayed in Tallinn at home of Gianpiero, a Neapolitan guy that mixed their days of vacations with the redaction of a book; and also in the house of Ulrich, another Danish guy that after having survived as backpacker during two years, he settled down in Estonia, although I don't believe that for a long time.
I also did a group of friends, all Russian that almost every night with a different excuse they came to carry me to drink a little. I understood: "Russian likes to drink". Too I knew Sergey, a man about 50 year-old who had already cycled two rides around the world through the north hemisphere. One, from west to east and vice versa.
My Russian friends told me that in spite of having been born in Estonia, they are not considered Estonians. Estonia was invaded after the Second World War, formerly it was part of the Russian empire, but during many years the same as Lithuania and Latvia, they were independent states. After the occupation, many Russian moved to these lands until in 1991 these states reached their independence again.
Estonians and Russians
Today a certain disagreement is noticed between Estonians and Russian. Each one has their origin, they speak their own language, and they possess their friendships, it is very difficult to find friends of both roots groups. I still remember, when with Gianpiero, we asked to a girl from Estonia, if she was Russian. And in a scornful tone she answered us: Noooo!!! Do I resemble a Russian?
In the capital and in the other main productive areas, the massive Russian presence believes problems of social character and, often, of public order for the difficult relationships among Russian and Estonians.
For example, in 1993 the Estonian parliament approved the law on "residents without citizenship" to discourage the Russian immigration, defined as discriminatory for Moscow, that forced the foreigners to choose among the application of the nationality Estonia (granted after four years of residence in the country) or the conservation of foreigner's status with limitation of the residence permission. The constitution of 1992 also vetoed the right to the Russian population's vote, except for the municipal elections.
My stay days in Tallinn, as every day in the Baltic countries, were dull for the rain days, and I couldn't to work many days. Anyway it was not bad because in Tallinn I sold much more than in any other side for these latitudes.
Finally in my last day in the capital the sun shone again and I visited the ruins that exist to 10 kms of the centre. It seemed another city, it was on Saturday and people had left to walk, to cycle or to sail. Tallinn will be for always engraving in my memory. And what I will remember forever is the Russian people's warmth that since I entered in the Baltic countries they didn't stop to welcome me. Without a doubt one of the best people that I met in Europe.