Km. 58,740 by Clara V.
We arrived to Jordan after other five days in Damascus, we returned from Lebanon, where Pablo was sick during the last days. We crossed the border; I was enthusiastic for the new scenery. I remember that by first time the police controlled the baggage of our bicycles, however when Pablo opened one of his bags, they found bananas and other food to eat on the road and it was enough for them, they were just curios, I remember them in a nice way.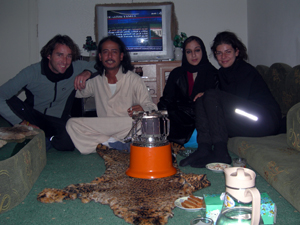 We cycled until the end of the afternoon and we were stopped when a car come to us. Is a couple, Kalaf seems a Latin-American guy, with dark skin and long and black hair. He is drinking a beer. And his wife, Giamila is totally covered except her eyes, which are making up. Suddenly she uncovers herself and she invites us to stay in their house. "Finally a young couple", I think. So we accept, moreover it started to be cold and we liked them. Kalaf is from Saudi Arabia, he has three wives and many children. But Giamila wanted to be the last wife, the only one.
It was difficult for us to believe that Kalaf fall in love of her at first glance, when he saw only her eyes, because she was always covered by her black and long clothes. After one month Kalaf asked her hand to her father and he saw the Giamila face by first time. These are the traditions, inland of these countries, where a man can fell in love only of the eyes of a woman and to marry almost without knowing her. However they were lucky people because they really liked each other.
In many cases seem that the marriage is really a contract where the young husband also marries with the whole family's girl, because after paying the dowry, if he is rich he will keep giving money to everybody.
After few days in that house, I convinced myself how important is for a father to have many daughters.
The trip continued to Amman, the capital city, and it has been a surprise. I liked its combination of a traditional and older part with one modern, built according to western stylistic criterions, where also the women seem freer, emancipated. Obviously that the King Abdullah II and his wife Rania represent a modern look and more hospitable that adds charm to an already beautiful country, plenty of history, a bridge between the sea and the desert, between east and west.
During our stay days in the capital we tried as other times to request an invitation for our next country to visit, Egypt. So we went to its Embassy and we asked for the Consul, who after more than an hour receives us in his office. He is free, I remember that there was a TV switched with cartoons; but it was not his best day, he was in a bad mood. So we left his office without our invitation. He seemed me arrogant, "excuse him", said to us their colleagues.
Way to the Dead Sea
We left Amman and it wasn't easy to find the right way. After 20 kms we stop in a village where Pablo repairs a puncture of his bike, it is the tenth time, while the men go to the mosque that calls them to pray. It is a serene and repetitive atmosphere. I listen the song and I wait. Restart to cycle in a normal situation would be for me very difficult but luckily a long and wonderful descent starts up to 410 meters under the level of the sea, it is the Dead Sea, the lowest point of the earth, the site of ancient biblical cities, land of peace, where Abram, Moses, David, Jesus, John Bautista and other biblical prophets found shelter.
That evening we camped on the coast, where there were tents, shepherds and animals. The weather was warm but Pablo made a fire and like another times three men arrived… I convince myself how courageous we are; Pablo has always his knife and I follow him anywhere he carries me.
The next day we cycled along the coast but it was too hot and I felt tired. But suddenly we saw the Movenpick hotel, the same hotel which sponsored us in Beirut, so "why not to try here?". And it was our lucky day because the general manager was celebrating his birthday and he invited us to dinner and he also offered us to stay three days there.
That nice days, we relaxed on the beach, we tasted the culinary specialties and we swam in the salty water of the Dead Sea. Also we had the pleasure of enjoying the sauna and we tested the therapeutic power of the mud.
We will never forget those days, neither Bruno, the Regional G.M. who also offered us some days in the Movenpick hotel of Petra and Aqaba.