Thailand – 90,340 Km
I entered to Thailand from Cambodia, and it took me three days to cycle till Bangkok. From the border to the capital city I crossed a dry region with some hills; it is an area unfavorable for agricultural and sparsely populated. So during the day I had to cycle long distances, crossing the nothingness. There were few places to stock up and it was very hot. At night I stopped in temples where the monks offered me a place to camp and to take a bath. They also gave me some food and even donations to keep cycling.
At the beginning of 2010 I arrived to Bangkok for the first time and I stayed nearly a month. That time I visited temples, China Town and some malls. I also knew the fluvial life and even I did a massage course. Now, a year later, after 14,000 km cycled in Southeast and northern Asia I returned to Bangkok, and although this time I was not interested in touring the city I stopped again to do another massage course.
According to my teacher, the origins of Thai massage dates back to India 2,500 years ago. It is believed that its founder was a doctor in the immediate vicinity of Buddha, who is even mentioned in the scriptures of Theravada Buddhism. The knowledge of this medicine was transmitted orally, and came to Thailand by Buddhist monks towards the centuries II – III BC. After, this practice was influenced by Chinese concepts of acupuncture and finger-puncture and other traditional medical techniques of Southeast Asia. Until the XIX century the Thai Massage, also known as Traditional Thai medicine, used to be received in the Wats or Buddhist temples and were considered a sacred practice because these were where the Thais were gotten out of their suffering, both physical and emotional.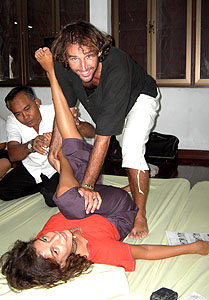 Like the first one, I did my second Thai massage course at Wat Po school, the oldest in the country, opened in 1955 in the temple that takes his name, the largest in Bangkok and one of the most revered places in the country. Approved by the Thai Ministry of Education, the Wat Po school teaches the technique that involves pressure and stretching. The pressures are made with the fingers, hands, feet, elbows or knees and follow the body's energy lines. Stretching regains flexibility and reaches a very deep relaxation. The massage is applied to the entire body from the toes to the skull and their role is focused on eliminating toxins and to free the vital energy flow, offering to the patient a sense of peace in his body and his mind.
Unlike other massage techniques, Thai style is carried out on the floor and the client uses comfortable clothing that allows him to move.
In recent years the acceptance of traditional Thai medicine increased, not only by the Thai people but also by foreigners. And although significantly medical techniques advances and many modern hospitals were built, Traditional Thai Massage doesn't stop practicing.
Towards South
I left Bangkok on my way to south, cycling with one hand and with the other one holding my "navigator telephone" which I got from my sponsor in Kuwait time ago. After China, where it saved my life, it became an essential element on my trip. Since then I use to download the maps of the countries to cross. The technology begins to captivate me. I remember a year ago how difficult was to leave Bangkok. This time I did it like who knew the city and in such a mess I felt like home.
My first stop was Samut Songkhram, where I visited the floating market of Damnoen Saduak, one of the main tourist attractions near Bangkok. I arrived to the market early morning when there were no tourists yet, when the first boats began to arrive. They are small wooden canoes transporting fruit, vegetables and all kinds of food that recall the Thai traditional way of life. Local women use their characteristic straw hats and row through the main channel offering their products. Later dozens of tourist buses arrived and together, almost a hundred canoes appeared to sell souvenirs or to offer rides around. So the place became chaotic, but also colorful and fun. With canoes traffic jam included.
My journey continued towards the Chumphon town for several days, crossing the Petchaburi, Prachuap Khiri Khan and Chumphon provinces. Sometimes through the highway or secondary roads which intertwine in a deep green area, between vast numbers of palm trees and their irrigation canals. In non-tourist areas of the country there are not much to see; in the interior almost everything is occupied with rubber plantations, the beaches are not so nice and small towns main activities are trade and fishing. But its people are much more helpful and disinterested than in tourist areas.
From Tao Island, I took a ferry boat to Panghan Island. Due to I was with my bicycle I arrived two hours earlier and I was the first one to buy the ticket. I also spoke with people of the company warning them about my bicycle. But at the time of boarding, none thought about me and they asked me to wait, and among 150 tourists I was almost the last one to walk on the freight platform. When I reached the ferry I noticed that it would be impossible to bring my bike with its entire luggage in one piece, as I expected, so I started to remove the bags as fast as I could. But employees were upset; they were hurry and tried to leave. So I went crazy and I like a crazy guy I carried all my staff to the ferry, nervous and angry. On the arrival I was one of the first to disembark and while I packed my staff on the bike the employees began to throw the bags to the platform, but one of them did it with excessive force, aiming at me. Tourists complained of it but nobody said something. I could not shut up I was still angry about the boarding, thereby I rebuked the guy who aimed me. He didn't speak English but my anger was enough to threaten him. Then I kept packing my bike, 5 meters from the boat, because I didn't move, simply because I didn't want to do it. Then another bag hit me in the leg, so it exalted me even more ​​but an Italian tourist made me see reason while I looked the employee challenging him and waiting other blow to grab him by the neck. But it was enough, because in spite of the guy kept throwing the bags as sacks of potatoes, they didn't hit me more.
Stories of ill-treatments and bad services are repeated throughout my touristic route in Thailand, I also got tired of listening, like that one from two guys who traveled by van and were not taken to their destination, but left on the outskirts of the city. Or even worse, as those girls who told me that they were threatened to remain silent during the trip or they would not arrive to take the plane. I thought Thailand is the worst country in Southeast Asian in terms of the treatment of backpackers in tourist places. It is also usual to find who always tried to charge 3 times the price of the things. What a pity, because some places could become a real paradise. The country is full of amazing places such as Koh Chang, Koh Phangan, Koh Lanta or around Krabi or Phuket. There are wild and lonely beaches, endless, with white sand and countless palm trees, and an ​​emerald green or turquoise sea. Like few places in the world. Thailand is a country of unique beauty.
On my way to Malaysia I covered more than 1300 km and it took me more than 3 weeks. I also cycled through the Trang and Satun provinces, where there are hardly tourists. There, the men wear traditional Muslim clothing, women cover their heads and mosques appear everywhere. The south seems another country, the beaches are not so spectacular and the hospitality of the people stands out, as in any Muslim country.