Northern China – 84,120 Km
I came back to China from Korea by ferry; I arrived at night to Tangu port after 25 hours traveling. Then I looked for a hotel to stay, but once more I found problem to do it, due to the budget hotels do not host foreigners, so after an hour checking in everywhere I had to stay in an expensive hotel according to my budget. It was nearly middle night and I just wanted to go to sleep.
In the morning I had a flat tire so I had to change it and to fix a problem in the seat, then I started to cycle to Beijing. It was 10 am and although it was too late I expected to cycle the 170 km and arrive to the capital city same day, because of I did not wish to have another night like the last one. And I was lucky, because the road was flat and it was not windy, so I arrived to Beijing at 9 pm, although I was on the other side of the city, from Antonio home, the Italian guy who would host me. So when I got home it was after 23 and my speedometer indicated me a new record, 212 km in 10 hours. I was totally exhausted.
I met Antonio through internet; he lived with 3 others people, all ex travelers looking for a life experience in Beijing. Thus they receive every pilgrim who visits the city. His house looked like a hostel. During those days I slept in the room with Antonio and I shared the bed with Iuri, another Italian guy. And it was very funny, because one snored and the other whispered in my ear. The house was a mess, but the Neapolitans were nice people, although I preferred a calm place. Therefore, I thanked and hugged them and I moved to David's home, a Spanish guy who had cycled from Madrid to Beijing to watch the Olympics. David, who lives in Beijing since 2008, works as golf instructor, and through his own tourism agency, begins to take Chinese people to play golf in Spain. David who knew very well how is to travel by bicycle became a businessman and he received me like a real friend.
During my stay in Beijing I was shocked because I expected to find an image of the China's Communist, but I found a huge and modern city with skyscrapers, majestic malls and wide boulevards. Beijing is one of the major capital cities of the world, with over 14 million inhabitants.
There I visited the main tourist attractions, but I also was interested to understand one of the main problems of the country, "the population growth". According some people explained to me, throughout the history the Chinese always thought: "The more children more prosperity", but toward the end of the 70s national leaders understood that all the problems of China were based in its surplus population. Thus, in 1979 it was introduced the one-child policy as a measure to control population growth. The slogan was: "Fewer children, better quality of life". Since then the families who do not comply such policy have to pay financial penalties.
According to the entity which is responsible for enforcing this law, the policy has prevented between 300 and 350 million births since its introduction and it has contributed to improving many social indicators such as per capita income, the spread of education and the decrease in the number of people living in poverty. However, it has also had negative effects for the country, as the aging of the population, selective abortions and the abandonment of girls by parents who prefer to have a son, which has led to another problem, such as gender imbalance. According to a recent study, there are already millions of missing women eligible for marriage. Meanwhile due to the practice of selective abortion has become so common, in some regions of China have been banned the scans to determine the gender of the baby.
But the one-child policy also includes some exceptions. They may have a second child, for example, couples in which both husband and wife have no brothers or ethnic minority families, like the Tibetans or Mongols who are allowed to have up to 3 children. But when, for example, a family from inlands does not comply with the policy and have 2 or 3 children, these are not counted in the census and therefore they do not receive education.
It is said that this policy has created a generation of spoiled children and unable to face up the maturity due to they grow up being the center of attention and treated like royalty. According to a friend, married and divorced with a Chinese girl, many Chinese lawyers face a common problem when a couple of generation "one child policy" have a child and get divorced, "the problem is that none of them are interested in looking after the baby", he said to me. The reason the lawyer explained to my friend, "because this policy has created a society of spoiled and selfish kids".
During my stay in Beijing I visited the Forbidden City, which is the largest architectural complex and best preserved in China where two dynasties of emperors lived and reigned for more than 500 years. Tainanmen Square too, which is believed that it is the world's largest public square, the scene of several demonstrations, most recently, the student protests in 1989 that ended up being violently suppressed by the army's intervention. I visited also the Temple of Heaven, the Lama Temple and the Confucius Temple. And also the Hutong, or alleys where the old house are, where much of the population of Beijing still live, but as Daniel told me, they are increasingly being demolished due to the interest of building a modern city.
Finally I visited the Great Wall in Mutianyu, which I went up by cable car and went down by sledge, as a child. The Great Wall was built from the 5th century B.C. by fief-holders in order to protect themselves from the nomadic tribes; and then it was linked and rebuilt by the different dynasties of the Chinese Empire. At the moment it extends for more than 6,000 km across deserts, hills and plains, but only some parts were repaired and restored by the Chinese government with the purpose that it keeps its original aspect of grandeur and greatness.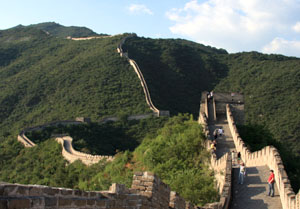 I stayed in Beijing more than two weeks, because during my stay I contacted some companies looking for a sponsor. And after some negatives, I got with the help of an Argentinean friend, Valeria Rabaglia that the Chinese company Huawei contributes on the project. I could not believe it, I had tried with local companies in India, Thailand, Vietnam, Japan and South Korea, but I was not lucky, and although I did not expect, after more than a year of several attempts, I finally got my first Asian sponsor. Now it was a Chinese company who supported me to keep cycling around the world.
Heading for the border
I left the capital city more equipped than ever, I bought a duck down sleeping bag for –5 degrees, protein powder, a new wheel, a tire and inner tubes, and food for several days, because to reach Ulaanbaatar, capital of Mongolia, I had to cross nearly 1000 km in the Gobi Desert.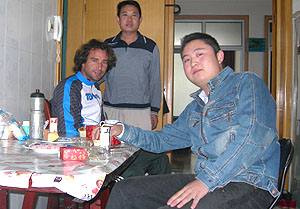 After I left the city I crossed the Great Wall and then during a couple of days I cycled through several towns and industrial areas on a route with too much truck traffic. There, to find a cheap hotel was a feat, because like in most of the country popular hotels do not host foreigners. I remember one night in Huai Lai that after many refusals from the hotels, Zhang Chao, the guy who was guiding me, took me to his home. He didn't even call his parents, who received me as if I was one of the family. And I was surprised even more when in the morning I realized that I had slept in his parent's room, I could hardly believe that his father had slept on the sofa.
I kept cycling on 110 road way to Jining, and then I took the 208 route to go into Inner Mongolia Autonomous Region. There starts the Gobi desert which is consisted mainly of high plateaus and mountain ranges. To cycle the 330 km to the Mongolia border took me 3 days and due to strong headwind I could not go over 12 km/h. The night temperature dropped to 3 or 4 degrees, so I preferred to stay in small hotels or at homes with people. One night because of bad information that I got on the road I could not reach the town which I expected, it was very cold and the wind was stronger than ever, but finally after 10 hours of cycling I spotted a house and I went to it. There I met Pater and his family, who at once offered me to spend the night there. Then they invited me with tea and they cooked some food. They were Mongols and although we could not understand each other, by signs and with a pencil and paper we had a pleasant conversation. And I was surprised that, despite the isolation they seemed educated people, they knew the capital city of Argentina and the names of several countries when I showed them on my map the route which I had cycled. They also had a book of a Chinese guy who had traveled on foot through China, perhaps because of this; they were so interested in my trip. They did a lot of questions, they were very curious. And they also told me that there, the winter temperature range between 10 and 15 ° C below zero and that the breeding of goats and sheep is the only method of survival.
When I arrived to Erenhot, the border town, my knees hurt, and after several days of bathing in a basin I stayed in a nice hotel. It was the day before my birthday and a hot shower was the gift that I had. I did not ask for anything more, I did not need it, I just wanted to relax and focus for the hardest part which was coming, that one which I felt that would be unique and started just the day of my 37 birthday, Mongolia.