Rabat is the second city of Morocco; it is the administrative capital with a population of little more than half million of hab. The Medina is the old part of the city and it is wrapped by a great wall of colour reddish ochre, of 5 km long.
I arrived to Tanger in a ferry boat from Tarifa, and immediately that I disembarked I felt happy for being in African floor again. It had already spent more than one year in Europe, where I cycled 13.000 km. And now Morocco was who welcomed me.
Tanger is the north west door of the continent, it has a population of 350.000 hab., and a mixture of cultures, Islamic and Christian, that they are reflected in a varied architecture, and most of its inhabitants like in several cities of the north of the country speak Spanish.
It was in August of 2005 and the cities were full. Due to the vacations there were many tourists, mainly from Spain and France; and also all those Moroccans who reside in others countries and they returned to visit to their families.
For this reason, it was very difficult to find a cheap place to lodge me; I had to visit between 10 and 20 hotels in each city, a difficult task after pedalling between 100 and 130 km daily.
Heading for the south I visited Asilah, a small city where a tourist centre of beach exists. And in route to Rabat I stopped to sleep in Larache and in Kenitra, two cities which are on the Atlantic Ocean with some ruins, rocky beaches and more typical constructions.
But I was astonished by the area of cultivations that exists in a secondary route, where it hardly passes traffic. Melon plantations, watermelon, sugar cane, wheat, pumpkin, tomato and peppers. Everything was an intense green with watering systems; they were men and women that worked the land manually; also boys and girls; and most of them covered with their veils.
I remember when in an occasion I doubted on the road that I had taken and I stopped three times along it to ask about my destination. But that difficult it was!!! The first man told me that I was to 30 km approximately, half hour later another man in poor French informed me that I was to 40 km, and my last informant told me that I have to cycle between 50 or 60 km yet.
"I don't ask more" I thought; it seemed that I was cycling in opposite way.
Rabat, km 44,625
Rabat is the second city of Morocco; it is the administrative capital with a population of little more than half million of hab. To my arrival in search of cheap fruits I went to the municipal market located in the Medina Kedima.
The Medina is the old part of the city and it is wrapped by a great wall of colour reddish ochre, of 5 km long that was designed in the XII century by the sultan Abou Youssef Yacoub El Manssur for its protection.
Walking among their streets I felt as if I was transported by the time, their streets were very narrow and replete of business; with half of their merchandises in the sidewalks; with their walls which were assimilated to an old ruin and with their people that always in the kindest way offered the variety of their products.
I also visited the Mausoleum of Mohamed V, where ruins of the XII century exist and the same king's tomb who ruled up to 1961, when Hassan II ascended to the throne. But today is his son, Mohamed VI, who reigns Morocco.
One afternoon in a bar I knew Yassini and he explained to me why the Moroccans prefer the monarchy; "it is preferable a family with tradition who reign than the struggle for the power and each president's enrichment."
Casablanca
I arrived in Casablanca after a hard one cycled; I pedalled for the coast with the wind against me and during the whole afternoon with too much heat. I didn't want to arrive in the city at night because I would have to look for a hotel. And finally I was right because I visited more than 20 hotels until finding one chord with my budget and my pretences.
Here in Morocco, some hotels can be cheap, but the hygienic conditions are sometimes deplorable. Finally I settled in a hotel of half category, but in the cheapest room where they didn't surely clean it very followed because when I went to bed several cockroaches appear from below the mattress. They were surely inconvenienced with me.
Anyway I enraged myself a little but I went to bed, I was very tired.
In the hotel I knew Ermelinda, a very daring and scatterbrained South American girl who arrived from Italy. She didn't have the minimum idea of the place where she had arrived. Her trip to Casablanca had been an entire odyssey, she travelled with a false passport and according to her indications she should travel from Casablanca to arrive in Canada, the third of her four destinations. But she had to wait for several days. So we decided to make a trip together to the desert from Marrakech.
Casablanca is the commercial capital of Morocco; it has 5 million inhabitants and a port area that it extends for more than a km. It is a city with a lot of activity, with a deafening traffic, with a high pollution grade and with extensive neighbourhoods degraded in their periphery.
But it also has an elegant residential area, with big avenues full with palms, luxurious buildings and its great construction: The Great Mosque of Hassan II, the third bigger in the Arab world. It has capacity for 25.000 faithful inside and 80.000 outside.
It was the old king who decided to build the Mosque of 90.000 square meters on the coast. Inspired by the verse of the Koran "the throne of God was on the water"
When I arrived in Casablanca, I presented the project to some companies to support my step through Morocco, but most of the directors of the companies that I visited were on vacation, it was August of 2005.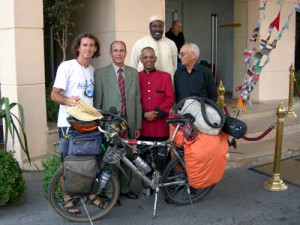 Anyway Mr. Harimi of the Farah Hotel offered me the demurrage free and the marine company Comanav presents me the ticket to France, from where I would follow my trip heading for Italy. And for them it was good, because I was interviewed by the TV and by 6 newspapers too.
The last day I stopped in the downtown pedestrian street and I tried to sell some of my dolls or some of my pictures. A lot of people stopped to converse with me but few ones only contributed; for moments they were 15 or 20 persons but then the police arrived and they tossed me; according to them the sale in that street is forbidden; and my bicycle and I caused a great disturbance.